Ceremony for the Future SNF Production Site in Saratov, Russia
The Foundation Stone Laying Ceremony for the future Acrylamide and Polyacrylamide plant was held on May 26, 2016, on the industrial site of SNF VOSTOK, LLC in Saratov, Russia.  This plant will be the 22nd SNF manufacturing facility in the world.
René Pich, Irina Gvelesiani (General Director of SNF VOSTOK, LLC) and Valery Radaev (Governor of the Saratov Region) took part in the official ceremony.  Also present were Vladimir Nekrasov (First Vice-President of Lukoil, PJSC), Stanislas Henrion (Counsellor for Transport, Industry, and Sustainable Development), SNF employees, Lukoil top management, representatives of various ministries in the Saratov Region, and partner companies.
To mark the occasion, a stone plaque and a world globe showing the location of the Saratov site were unveiled near the entrance to the future production site.  As a sign of commitment to environmental protection, and following on traditions established by SNF and Lukoil, the dignitaries in attendance participated in the planting of trees next to the memorial.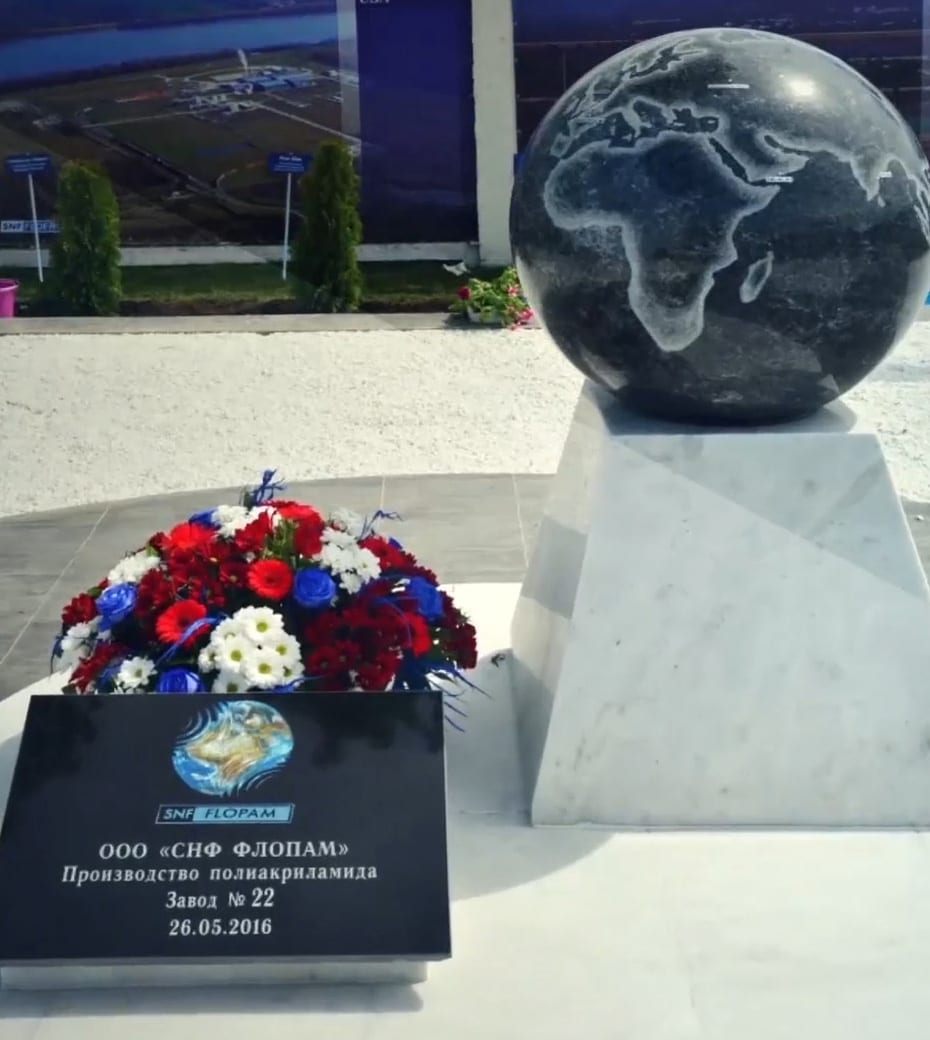 The future Saratov plant site will cover approximately 20 hectares (49 acres), with Production, Warehousing, and Technical facilities planned to occupy about 2 hectares (4.9 acres).  The site is expected to initially employ about 160 people.  The plant will include 2 Acrylamide production lines and 4 powder Polyacrylamide production lines.  To start, the anticipated production capacity will be 60,000 metric tonnes (132,277,357 pounds) of Polyacrylamide/year, with a subsequent increase to 150,000 metric tonnes/year (330,693,393 pounds/year).  One of the key factors in choosing this particular location for the future plant was its proximity to the industrial site of Saratovorgsintez, LLC.  This is an asset of Lukoil, PJSC, the only Russian producer of Acrylonitrile, a key raw material for the production of Polyacrylamide.  Using local raw materials will allow SNF to compete successfully on price in the Polyacrylamide market and successfully meet the challenge of import substitution of products currently supplied from France, USA, and China.
Oil and mining companies will be the main customers for the chemicals produced at the Saratov plant.  For example, SNF plans to provide and sell products to the Enhanced Oil Recovery market.
In May 2016, the SNF group of companies registered a new subsidiary in Russia, SNF FLOPAM, LLC.  At the moment, site designs are being created and should be completed in the 4th Quarter of 2016.  Construction is scheduled to commence in 2017.  It is anticipated that the commissioning of the plant will take place towards the end of 2018.
__________________________
Company Profile
SPCM S.A. is one of the world largest manufacturers of water-soluble polymers used in wastewater treatment, enhanced oil recovery, mining, paper, agriculture, textiles, and other markets.  The first company of the SNF Group was established in France in 1978.  SNF Group currently has 2 subsidiaries in Russia: SNF VOSTOK, LLC established in 1997 and SNF FLOPAM, LLC established in May 2016.
The global market share of the SNF Group is 45% (44% in Russia).  SNF employs approximately 4,500 people globally, with 19 operating production sites, 4 sites under construction, 50 affiliated companies, and more than 1,000 dealers and partners.  Revenue in 2015 was €2,2 Billion ($US 2.35 Billion).
The SNF Group has more than 30,000 direct clients, representing more than 300,000 thousand end-users all over the world using SNF products.  SNF has developed a range of more than 1,000 products.  Due to the constant investment in Research and Development, the company creates about 100 new products annually.
SNF continually strives to improve products and production processes, thus reducing negative environmental impact.  Therefore, all SNF plants around the world are built in accordance with the highest security as well as environmental standards.  Significant investments are made by SNF in training its employees in all matters related to Environmental, Health, Safety, and Security in order to ensure a safe workplace for our customers and employees.